EventMarker is a simple-to-use interface for collecting accurate attendance data. It is web-based but very powerful and capable of recording attendance both in college and off campus. It can record statutory attendance, lesson attendance and ad hoc/enrichment attendance.
Benefits
For the College
Rapid return of investment due to substantial improvement in learner retention.
'Live' attendance data available to staff - in the classroom and back office.
Improved flow of bursary payments to students, creating student loyalty and reducing complaints.
Simple reporting structures to aid early intervention.
A range of add-on software modules, such as enrolment ID card printing, streamlining college processes, etc.
For the Teacher
Increased teaching time and reduced start-of-lesson administration.
Simple touch in/touch out to view the register.
Add comments about students' lateness and behaviour.
Review recent attendance history for individuals and groups.
Empower students to register themselves for lessons.
For the Student
Register quickly with just one swipe per class.
Take control of attendance personally and increase the likelihood of bursary payments.
View daily timetables and check attendance at access points around the college.
Why EventMarker?
100% accurate real-time attendance monitoring with integrated reports.
100% accurate evidence & information regarding learner activity in compliance with the SFA Funding Rules.
Selective absenteeism can be spotted easily & dealt with swiftly due to evidence.
User friendly GUI
EventMarker can be upgraded to link with our wired or wireless Access Control Systems. This leverages the investment in existing systems and infrastructure.
Dynamic Display of Attendance
EventMarker displays a register with photographic images of the students expected for a class. As the students enter the room and swipe their RFID cards, their images go from grey to full colour in the register screen. Their attendance status is also displayed, e.g. 'Present', 'Late (12 mins)' etc. according to specific configuration. This data can be overridden by the lecturer, if they have the system rights to do so.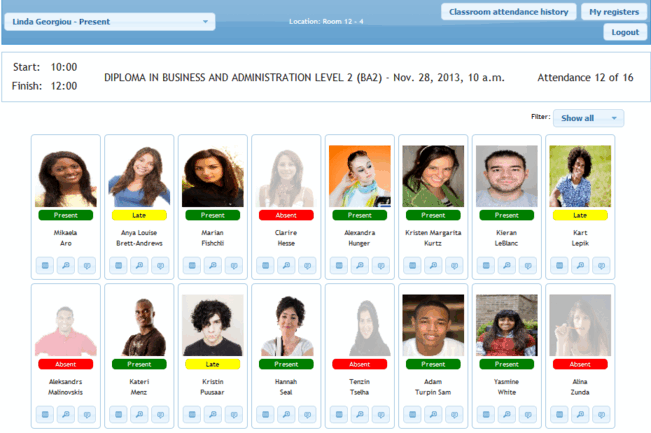 Fast Login
When a lecturer swipes their card in a classroom, the system will login automatically and display the appropriate register. If there is no register to be taken in that room at that time, options to take other classes or move a class to this room are presented. All this is provided the lecturer has been granted the appropriate rights to take these actions.
Silent Operation
EventMarker can record attendance via student swipes with absolutely no action needed by the tutor. This means that latecomers need not disrupt the teaching of a lesson. Even timetabling errors can be resolved afterwards, with student attendance then being allocated to the correct room and activity - so lessons can be devoted entirely to learning!
Display of Timetables
Staff can view both staff and students' timetables (if they have been given the appropriate rights). Even from within a live register the tutor can see a student's previous attendance on a week by week basis. This can be a very helpful pastoral tool in spotting poor attendance or bad timekeeping. If problems are identified early on they can be dealt with much more effectively.
Security
How the system behaves can be configured for groups of users and for individuals. This can also vary according to location. For example, as a lecturer swipes their card in a staff room, they will be (optionally) shown their timetable for the week.
As they swipe in a classroom where they are due to teach, they will be shown their register. The system is usually configured so that lecturers have very limited rights when they log in by swiping in a classroom and also so that the application logs out quite fast if there is no activity taking place.
This is to prevent students tampering. If more control is needed, a lecturer can log in using their username and password. A second swipe by a logged in user will immediately cause the system to log out.
Student Access
EventMarker can be configured so that certain PCs, for instance, those in public spaces can respond to a student swiping their card by displaying their timetable for the day and any outstanding assignments that are due or will be soon. Classes that have started or will start very soon are shown in red. The system can be configured to display a map showing the current location and the location of classes displayed in the timetable. Student access terminals can be touch screen PCs. This allows the additional features of requesting directions to classrooms, requesting a (till receipt format) print-out of weekly attendance and sending messages to be selected.
Long Range Reading Technology
EventMarker supports many forms of ID cards for declaring students present, including UHF RFID IC. UHF (Ultra High Frequency) manages to cut out the swiping action for students by using a reader with a far larger range than typical card readers that require being swiped in close proximity to the card. By adapting UHF cards, students will only have to walk in to the classroom to have their attendance recorded in our software, further simplifying and speeding up the class registration process.